` Doggie Recipes
`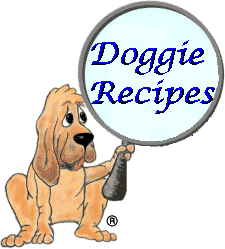 Bark-Va-Lous Dish Recipe

1/2 lb. Ground chicken
1 1/2 T. Vegetable oil, divided
2 garlic cloves, crushed
4 C. Uncooked white rice
1 C. Peeled and sliced cooked sweet potato
1 C. Diced cooked green beans
1 carrot, diced

Brown the ground chicken in a pan with 1 tablespoon oil and the garlic. Drain. Steam the rice according to instructions on the package.

Saute the sweet potato, green beans and carrots in 1/2 tablespoon of oil. Combine the chicken, garlic,cooked rice, sweet potato, green beans and carrots; mix thoroughly. Serve when cooled.

Bow Wow Brownies
1/2 C. Vegetable oil
2 T. Honey
1 C. Whole wheat flour
4 eggs
1 t. Vanilla
1/2 C. Carob chips
1/4 C. Carob powder
1/2 t. Baking powder

In medium bowl, blend oil and honey thoroughly using wooden spoon. Add flour, eggs, vanilla, carob chips, carob powder and baking powder and mix well. Pour onto greased 15 x 10-inch baking sheet.

Bake at 350°F. 30 to 35 minutes. Let cool. Cut into bite-size squares. Refrigerate in sealed container, carefully labeled.
`
Rose!

__._,_.___
VISIT RUKHSANA FM ONLINE RADIO
http://www.freewebs.com/rukhsanafm
Enjoy your stay at Rukhsana Group.
Moderators Rukhsana Group:
Aika Rani, Mumtaz Ali, Sitara Ansari, Lilly, Akhtar,
Contact us at: Aika_Rani@Yahoo.Com
Rukhsana-owner@yahoogroups.com
**********************************
.
__,_._,___